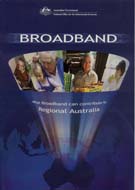 Broadband in Regional Australia
Part of the Broadband Resource Kit, this document explains how broadband can benefit those living in regional Australia. It targets different sectors of the community including primary industry, tourism, education and health.
The document was written by NetSavvy principal Annette Spooner, in cooperation with the National Office for the Information Economy (NOIE), now DCITA.